Just to prove me wrong, here comes New Zealand College with an even higher density of serious misspellings than the Spamish translation featured last week. Here is a screenshot from one of their "Spanish" pages.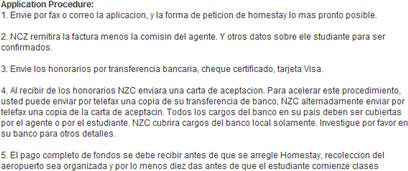 My back translation follows. Please note that the title "Application Procedure" was left in English for no good reason, so I rightly translated it into Spanish for effect. Also, when you see an accent in English—which of course uses none—this is because of an accent mistake in the Spanish translation. All misspellings are in italics:
Procedimiento de inscripción:

1. Sénd ás soon as possible the applicatión and the homestay request form by fax or mail.

2. NCZ will sénd the invoice minus the commissín of the agent. And other data about th estudent to be confirmed.

3. Sénd the fees by wire transfer, certified check, Visa card.

4. Upon receiving from the fees NZC will sénd an acceptánce letter. In order to accelerate this procedure, you can send a copy of your transfer of bank by telefax, NZC alternatedly to send by telefax a copy of the acceptnce letter. All charges of the bank in your cóuntry must be covered by the agent or by the student. NZC will cóver charges of the local bank only. Please investigate in your bank in order to other details.

5. The whole payment of funds must be received before arranging Homestay, collection of the airport be organized and at least ten das before the student startz classes
That's at least 20 word-level errors on this short text, not to mention errors beyond the word level. This time there is no possible excuse, defense, or extenuating circumstance for such a poor language performance. They are a language school! They offer English, not Spanish classes all right. But they have (or should have) enough linguistic awareness not to assign their website translation into Spanish to the first Spanish-speaking student of theirs who will accept ten bucks to do the job. Sorry for the acid criticism, but I find this intolerable on the part of a language school. They would have been much better off by just keeping the English version if they didn't feel like investing in professional translation. I know that as a father, I would never send my children to learn a language in a school which seems to care so little about the language they use. Pretty obvious reasoning, but apparently not so obvious for them...