Today we have an interesting specimen courtesy of Burlington County Board of Social Services: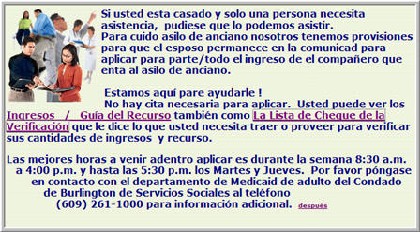 And its back-translation:
If you this married and alone a person needs assistance, he could that we can assist you. For I care old person home we have food supplies so that the husband he stays in the you communicate to apply in order to part/all the revenue of the partner who ente the old person home.

We are here you stop help you !
There is not needed appointment to apply. You can see the Revenues / Guide of the Resource also like The List of Bank Check of the Verification that tells you what you need to bring or provide in order to verify your amounts of revenues and resource.

The best hours a come inside apply is during the week 8:30 a.m. to 4:00 p.m. and until 5:30 p.m. tuesday and thursday. Please contact the Medicaid department of County adult of Burlington of Social Services to the telephone (609) 261-1000 in order to additional information. later
This text is interesting because it looks and feels like an automatic translation (because of very awkward, artificial, non-human "grammar") but there are some things that don't quite fit into that picture. Even though automatic translation is extremely limited as regards generating texts for human consumption, if there is something that it does right this is of course spelling correctly. However, this text contains a few misspellings along with quite a few genuine but nonsensical words in the context, which were created by missing the correct spelling of the intended word and generating a completely different word. None of this can be rightly attributed to automatic translation shortcomings. So it would seem like this translation was generated by following these two steps:
1) Having the English text translated into Spanish through an automatic translator
2) Having the machine translated text reviewed by an unqualified person
Unfortunately, two mistakes don't add up to a success as we can see!