Alternative title for this post: How not to target Hispanics, by Tenochtitlan Market!
(See http://www.kphi.org/sponsors/t/tenochtitlan/index.html)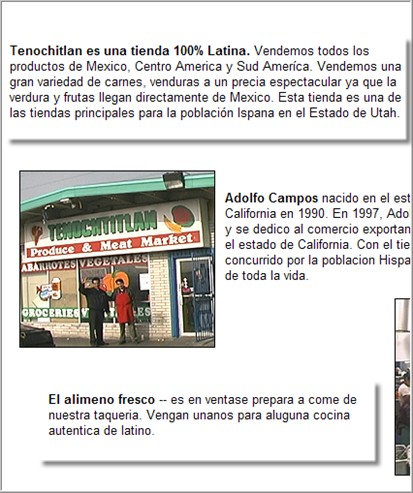 I have spotlighted two text excerpts to the left, which I will now back-translate. Misspellings are shown in Italics as usual:
Tenochitlan is a 100% latin shop. We sell all the products from México, Centralamerica and Southameríca. We sell a great variety of meats, venetables at a spectacular he appreciates since the vegetables and fruits come directly from México. This shop is one of the main shops for the Ispanic population in the State of Utah.

The fresh fod -- is in should the wind blow he prepares to you eat of our tacó restaurant. Come one us for soume random cuisine authenticates of Latin.
When you think that their whole business is intended for Hispanics! Frankly, I don't think that their Spanish website version sends much business their way... But wait! They are not really targeting Hispanics! According to them, they are targeting the Ispanic population in the State of Utah! That definitely explains everything...