Americabs flies the extra mile...
Language correction is not there, but at least their offer to Hispanics rocks! You can't say they're not making an effort: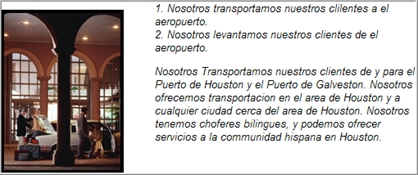 Which would back-translate as (first two lines):
1. We transport our clilents to the airport.
2. We lift our clients up from the airport.
So actually, you get off from your plane and think that Americabs will drive you to your destination... well, if you're Hispanic you couldn't be more wrong! Americabs will lift you up from the airport and take you flying to your destination! When you think that English-speaking clients are only being picked up from the airport...
So how's that for showing your appreciation to your Hispanic clients?