Cooley Dickinson Hospital's CEPA program for Hispanics is a real source of creativity for the Spanish language. So much so that a thorough grammatical and etymological research was needed in order to translate the innovative coined Spanish terms on these couple of sentences, and a small glossary was created: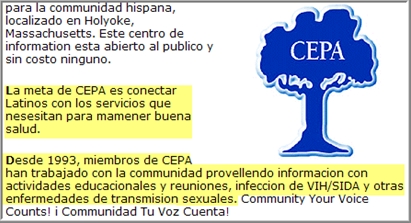 The back-translation follows:
CEPA's goal is connecting Latinos with the services they neeth to suckeep good health.

Since 1993, CEPA members have been working with the comunity provilling informatión with educational activities and meetings, VIH/AIDS infection, and other sexual diseases of transmissión.
And the promised glossary for key terms, in approximate order of appearance:
Nesesitan—They neeth
Mamener—To suckeep
Enfermedades de transmisión sexuales—Sexual diseases of transmission
Provellendo... infección de VIH/SIDA—Provilling VIH/AIDS infection
Providing VIH/AIDS infection? Oooops! I suddenly remembered that I am expected somewhere far away right now!