More Spanish language creativity, this time by Skyline College: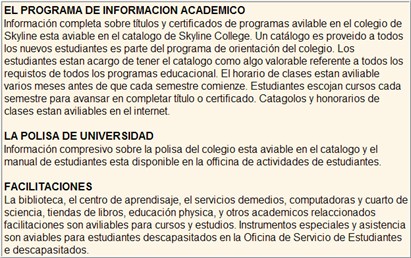 This time I won't give a back-translation, but will analyze the highlights of this text:
1) In a creativity feat, "available" has been translated in three different ways:
—"Avilable", an innovative adjective which is undoubtedly connected to the Spanish city "Ávila".
—"Aviable", which should refer to a place where an aviator can aviate.
—"Aviliable", which obviously comes from the root "bile" but has been misspelled. I just finished my lunch, so I will refrain from interpreting this term in depth.
Of course, the correct Spanish translation "disponible", which is available in any basic English-Spanish dictionary, was too straightforward and boring...
2) Other interesting new concepts:
—Catagolos (second paragraph, last sentence): Goal-o tasters, as translated from "catalogs"
—Requisto: Recyst-o, as translated from "requirement"
—Academicos relaccionados facilitaciones: Relacted académics-facilitations. No idea what this could mean, it is probably too advanced and scholarly for me...
—Información compresivo: Compressive information, which apparently compresses the person learning it. With this exciting new concept, nobody will ever need comprehensive information anymore!