Apologies for not having posted last week's funny translation. Good news is, this week you get two!

So let's bring along the first one: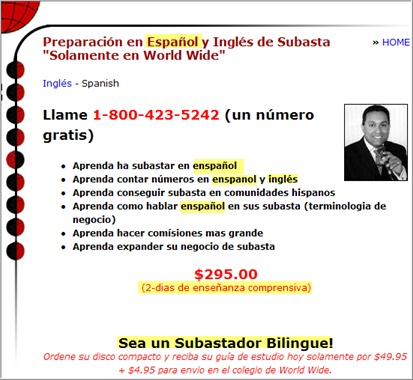 There are many gems in these few lines, but I have highlighted in yellow the ones I will comment on. It is said that you should always deliver beyond your promises and not the other way around. Well, Worldwide College of Auctioneering (http://www.worldwidecollegeofauctioneering.com/html/bi_lingual_esp.html) gives us a big lesson on how to do this. In two days of understanding teaching (enseñanza comprensiva), they promise to turn you into a bilingual auctioneer. But if you pay close attention, they are giving you much more than this! By reading the title and the bullet points, you see that they are actually offering you four languages: español, enspañol, enspanol and inglés (English)! Now that's what I call value for money and a time-effective training!